| | |
| --- | --- |
| Herd Sires | Click on name to see pedigree and performance numbers. |
AI Sires:

CL 1 Domino 079H [DLF,HYF,IEF,MSUDF,MDF]
HH Advance 8010F ET [CHB,DLF,HYF,IEF]
HH Advance 8071F ET [DLF,HYF,IEF]
CL 1 Domino 710E 1ET [CHB,DLF,HYF,IEF,MSUDF]
HH Advance 7156E ET [CHB,DLF,HYF,IEF,MSUDF]
HH Advance 7162E ET [DLF,HYF,IEF,MSUDF]
CL 1 Domino 6128D 1ET [CHB,DLF,HYF,IEF,MSUDF
HH Advance 6186D ET [DLF,HYF,IEF,MSUDF]
CL 1 Domino 6187D [CHB,DLF,HYF,IEF,MSUDF]
CL 1 Domino 5110C [SOD,DLF,HYF,IEF]
SR Bakken 62Z [SOD,CHB,DLF,HYF,IEF]
Herd Sires: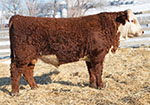 CL 1 Domino 9116G 1ET [DLF,HYF,IEF,MSUDF]
A well rounded 7156 son that combines calving ease with good growth and an excellent maternal package. +11 for CED! Dam, 9184W has been solid - she's an 11 year old cow that is still in production at Coopers. He is marked up nice - red to the ground, has 100% pigment and rednecked. He ranks in the top 10% in 5 traits and is a CHB qualifier. Full brother to 9116 is owned by L Bar W, Johansen and Coopers.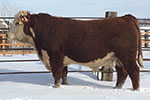 UPS 215Z Domino 7342 ET [DLF,HYF,IEF]
Purchased from Upstream's, this 215Z son was selected for his calving ease and highly maternal pedigree. His dam, 1353, is also the dam of the legendary 3027. He is a great combination of calving ease, good growth, high maternal traits and solid carcass numbers.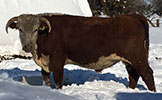 HH Advance 7237E [DLF,HYF,IEF]
Quonset topped, big middled, soft made and easy doing 333A son. 7237 has a great look and pattern to him, is moderate BW and posts an impressive set of numbers sporting the second biggest rib eye in Holdens 2018 sale and 107 WR. This herd bull is in the top 3% on scrotal, milk and M&G and is out of a power cow family with dam selling to Hoffman Herefords.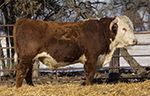 BCC Domino 6118D
6118 was a top performer in Baumgarten's 2016 calf crop. He's an excellent choice for building a cow herd, combining highly maternal genetics with top performance and carcass figures. He has a pedigree stacked with beautiful uddered cows with lots of milk. 3/4 brother to BCC Domino 619.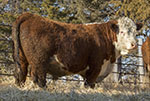 ZH 0192 Real Advance 550
This big time performance bull is thick and deep and has a huge hip. He is heavy boned, wide-based and has exceptional volume. Maternal strength galore as he is out of a tremendous cow. She is a DOD that has a 115 WR on 6 calves with 550 being 126. Solid EPDs with big time performance.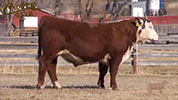 CL1 Domino 451B [DLF, HYF, IEF]
Powerhouse performance bull!!! 451 posted the top weaning (910) and yearling (1506) weights at Coopers. He is a long bodied son of HH Advance 2037Z out of an 860 first calf heifer has loads of scale, depth of rib, big top and pure performance. 124 WR and 121 YR. He scanned a 14.7 inch REA with 108 marbling ratio. He has an impressive set of EPDs putting him in the top 1% of the breed for WW, YW and M&G; top 10% for Milk and CHB.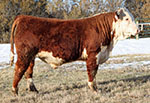 HH Advance 3172A ET [DLF, HYF, IEF]
He is a massive sided bull with extra bone and substance. He is long bodied, stout made and full of red meat. He has outstanding individual performance and is out of a great donor cow that sold for $15,000 and boasts a 114.8 WR on 4 calves. Top 1% of the breed on Milk and M&G EPDs. Top 3% on Scrotal EPD. Top 20% on MARB EPD. Top 25% on $CHB.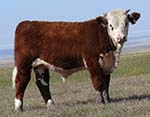 LCI 311W Total 195A
Exciting new herd sire purchased in Doenz' fall sale. A son of TOTAL who was the Senior Bull Champion at the 2012 World Hereford Conference whose calves are performance machines. 195A is one of Total's most attractive individuals. He is pigmented, long based and has good muscle expression. Can't build a better udder than his dam. Lots of cow power in this calf!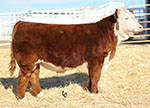 Dvor 665 006 Domino 203 [DLF, HYF, IEF]
The first yearling offered at Dvoraks out of an awesome heifer. Thick calf that is long bodied, good footed with a big, deep, thick rear quarter. Successfully used on heifers.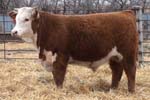 ECR 9122 Domino 1060 [DLF, HYF, IEF]
A thick top and hip in this bull with plenty of length and depth of body. 80 lb. BW with a WW ratio of 108. His mother also has a 9 for an udder score. His mother goes back to CJH L1 Domino 552 and K&B Silver Advance 4129. There is a ton of milk in this pedigree. Milk EPD is in top 5% of the breed.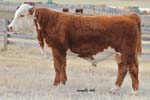 CL 1 Domino 1171Y 1ET [DLF, HYF, IEF]
Calving ease package!!! Full brother to Cooper's 1131. This medium colored, red-necked "955W" son has good thickness, muscle, eye appeal and 100% pigment. 1171Y is backed by a strong maternal pedigree. Dam, 615S, ranks in the top 1% for Milk (+34), the top 3% for CED (+5.0), BW (-0.1), and the top 5% for Marbling (0.23). 1171Y is in the top 3% for Milk (+30) and M&G (+56) and the top 10% for CED (+3.6), Scrotal and CHB Index.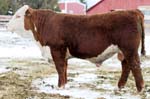 HH Advance 0192X [DLF, HYF, IEF]
Outstanding 8203 son with tremendous thickness. He is deep sided, well marked and boasted a 111 WR and a 108 YR. Ranks in the top 1% of the breed for WW, YW and M&G EPDs and ratioed 120 on IMF score. Maternal grandam topped Holden's 2008 female sale at $32,000 and sire sold for $50,000 for 1/2 interest.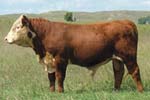 DS 2136 Adv 6153 [DLF, HYF, IEF] - SEMEN AVAILABLE
Has worked very well on heifers adding muscle, volume and thickness. He had an actual 80 lb. birth weight with REA Ratio 113 and IMF Ratio 141. He is deep ribbed with a pedigree full of super cows.
ZH 40U Real 002
A home raised stand out that adds power to his calves. He sires performance, pigment and bone. Plenty of cow power in his pedigree.
HH Advance 8074U ET [DLF, IEF] - SEMEN AVAILABLE
Full brother to Holden's 8019U. Dam is a DOD that sold for $31,000.
LCI 107R Ribstone 159U - SEMEN AVAILABLE
Two shots of Kahlua and 157K. Only an 86 lb. "Canadian" birth weight yet big weaning and yearling weights. Has worked successfully on heifers.
KB L1 Domino 573R
Baker's 2006 Catalog Cover bull
KB L1 Domino 9160 [DLF, IEF]
A 737 son that we continue to use for his calving ease, performance and outstatnding females.